News/Media
Bridgepoint Health project officially opens in Toronto
Canadian Architect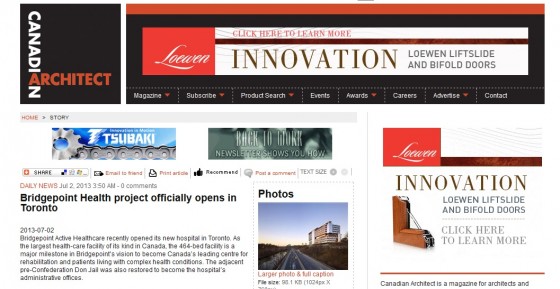 Doctors Embrace the Digital Workplace
The Globe and Mail
Building tomorrow's healthcare facilities, today
Business Excellence
Providing cost effective and efficient technology solutions for the healthcare facilities of tomorrow, Plan Group is proud to be part of Canada's leading healthcare facility, Niagara Health System!
In Canada, millions of dollars are wasted each year on administrative inefficiencies, redundant treatments, and medical errors, not to mention the growing costs associated with healthcare. Forward thinking healthcare organizations, like the Niagara Health System (NHS) are focusing on quality and efficiency improvements, putting the patient first.
Taking advantage of the connectivity, efficiency and technological capabilities of the digital age means that the healthcare industry can provide better patient care—making sure the right people receive the right information, at the right time. Tomorrow's healthcare facilities are being built today by skilled technology experts who have a deep understanding of inter-connectivity and the complexities of the supporting infrastructure. Through Plan Group's partnership with NHS, Infrastructure Ontario, Plenary Group, and PCL Constructors Canada Limited, the new, 1 million sq/ft state-of-the-art health care complex was designed and built to respond to changes in future healthcare delivery, ensuring patients and families receive first-rate care for generations to come. Headquartered in Toronto, Canada, Plan Group is a leader in building Canada's most technologically advanced healthcare complexes, like NHS. With the ability for a rapid design and build process, Plan Group builds healthcare facilities with leading edge technology implemented— maximizing operational efficiency by optimizing how technology is used, and how information is disseminated and processed. When completed, NHS New Health Complex in St. Catharines will be home to one of the most modern healthcare facilities in the province.
"We are seeing a new model of healthcare emerging, driven by healthcare facilities which are taking advantage of new technological advancements," says Glen Landry, Technology Division, Plan Group. "We are using digital technology as a tool to achieve the balanced goal of operational efficiency and outstanding patient care."
Plan Group understands the pressures healthcare organizations face, and provides innovative, custom tailored solutions to serve these specific needs. By enhancing the safety, quality and efficiency of each facility, Plan Group can build efficient systems where the right people have access to real time patient data, allowing care givers the ability to make effective and appropriate healthcare decisions, quickly and accurately. With skills and expertise to develop and serve the needs of the healthcare industry, including structured cabling, technology, electrical, mechanical and maintenance, Plan Group helps healthcare facilities prepare for the challenges to come.
"With such a deep understanding of complex construction projects, working with Plan Group means that you have access to infrastructure architects who have a profound understanding of healthcare technology, and all the new advancements, not to mention, they can translate them very easily into how the system can best be built, on the ground," says Jeff Wilson, Regional Manager, ICT Technical Support, NHS. "Together, with Plan Group, we are a team, building a modern healthcare complex."
A Vision of the Future
Business Excellence | August 2012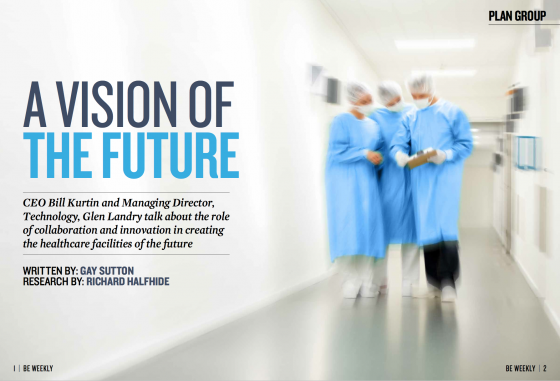 CEO Bill Kurtin and Managing Director, Technology, Glen Landry talk about the role of collaboration and innovation in creating the healthcare facilities of the future.